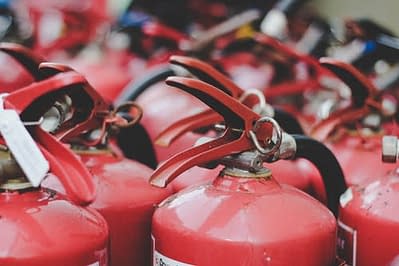 When it comes to fire safety, many businesses focus on reducing hazards during the winter months when the air is dry and lights are on more frequently. But summer has its own fair share of fire hazards that could quickly turn a beautiful day into a business owner's nightmare.
To help you and your employees stay safe this season, we've compiled a few tips you can use to boost your business' fire safety:
Educate your employees about fire safety. Fire safety ought to be a part of your workplace safety training program. It's important that your workers know where the exit doors are in case of a fire and how to keep their equipment in the proper place to minimize fire risks. Fire extinguisher training courses are also a great way to educate your employees about fire safety while minimizing your office's fire risk.
Have automatic sprinkler systems and fire extinguishers installed. Once your employees have taken a fire extinguisher training course, it's important that they have a fire extinguisher to access in case of a fire. By installing high-quality fire extinguishers and automatic sprinkler systems throughout your commercial property, you can reduce your fire risk and boost workplace safety.
Check your smoke detectors and alarms regularly. Your smoke detectors and fire alarms need to be checked regularly to maintain efficiency and safety. If your alarms have been damaged or aren't functioning properly, it's recommended to have an expert inspect and fix them.
Unplug air conditioners when they're not in use. Depending on the size of your office, you may not have central air conditioning installed. If your office uses window AC units and fans, it's important that you unplug these when they're not in use. Electrical fires are one of the most common types of fires, and they can happen when the circuit is overloaded.
Interested in a fire extinguisher training course and other safety training?
It's no secret that homes and businesses are at risk of a fire during the summer, but fires can happen any time of the year. In fact, fire departments across the U.S. respond to house fires approximately every 86 seconds.
A fire extinguisher training course can help to keep you and your employees on the ball when it comes to keeping your business safe from potential fires. To learn more about signing up for a fire extinguisher training course, CPR classes, or first aid training, contact Code 3 Safety & Training today.