Are you on the fence about purchasing an AED for your workplace? Are you concerned about liability? What about the cost of an AED?
Most new AEDs' range in price from $1,200-1,800. They come with all the accessories needed to assist in preparing the patient, including a CPR mask for breaths. The liability is virtually zero as these AEDs' will NOT shock any person that is not in cardiac arrest, needing the AED. It is IMPOSSIBLE due to its technology. Of course, you do need to clear the patient before pressing the shock.
It is true that cardiac arrest survival greatly increases when bystanders use an AED!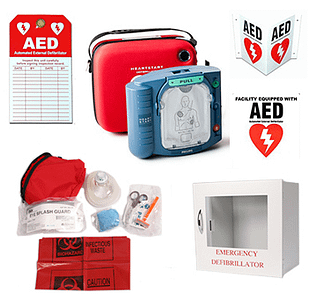 The American Heart Association has published the following news on 2/26/2018…
Study Highlights:
Survival from cardiac arrest doubled when bystanders stepped in to use a publicly-available automated external defibrillator rather than wait until emergency responders arrived.
The study showed that the longer it takes emergency personnel to arrive, the greater the benefit of a bystander using an AED to shock the victim.
Victims who received a defibrillator shock from a bystander had far greater chances at survival and being discharged from the hospital than those who did not.
The sooner that you can deliver a shock to the bystander in cardiac arrest, the better opportunity you have to "re-organize" a chaotic and unproductive rhythm. This is important since the patient is often shockable at the beginning of a cardiac arrest, but that opportunity diminishes over several minutes, making the use of the AED a priority immediately. A quick integration of an AED and prompt CPR, beginning with compressions first offers the patient the best chance of success.
All of our AEDs' offered on our website are of excellent quality. We will be happy to assist your company with the one most appropriate for your environment and working conditions.